8th Annual Meeting
June 28-30, 2021
After skipping one year due to Covid-19 pandemic we are back with the 8th Annual PSFaM meeting. Due to the restriction being still in effect, this year meeting will have an abbreviated form and will be fully on-line.
There will be three two-hour sessions held on June 28-29-30 (Monday-Tuesday-Wednesday) from 11 am to 1pm Central Standard Time (Saskatchewan time). We have assembled a mix of highly regarded international and Canadian speakers.
For the list of speakers, go to the Program page.
The meeting is free and open to all interested scientists.
We hope to return to the previous format of the meeting for the 9th PSFaM in 2022.
---
Many labs in Western Canada conduct research on protein function and structure. The aim of this two-day Protein Structure, Function and Malfunction (PSFaM) Meeting is to provide a forum for up-and-coming researchers involved in the study of proteins and protein structure and function, be they graduate students, post-doctoral fellows or faculty, to present recent results, engage in discussions about their research, and meet their peers. The talks are given by internationally-renowned Keynote speakers, invited faculty, and trainees (trainee talks are chosen from submitted abstracts).
The title of the meeting is purposefully broad to allow wide participation.
While this meeting is predominantly aimed at the research community from Western Canadian provinces where travel to and from Saskatoon is not so difficult, other participants are heartily welcome.  Two days of oral presentations and poster sessions, mostly given by graduate students and postdoctoral fellows, along with keynote lectures allow researchers to expand their professional network in an informal environment.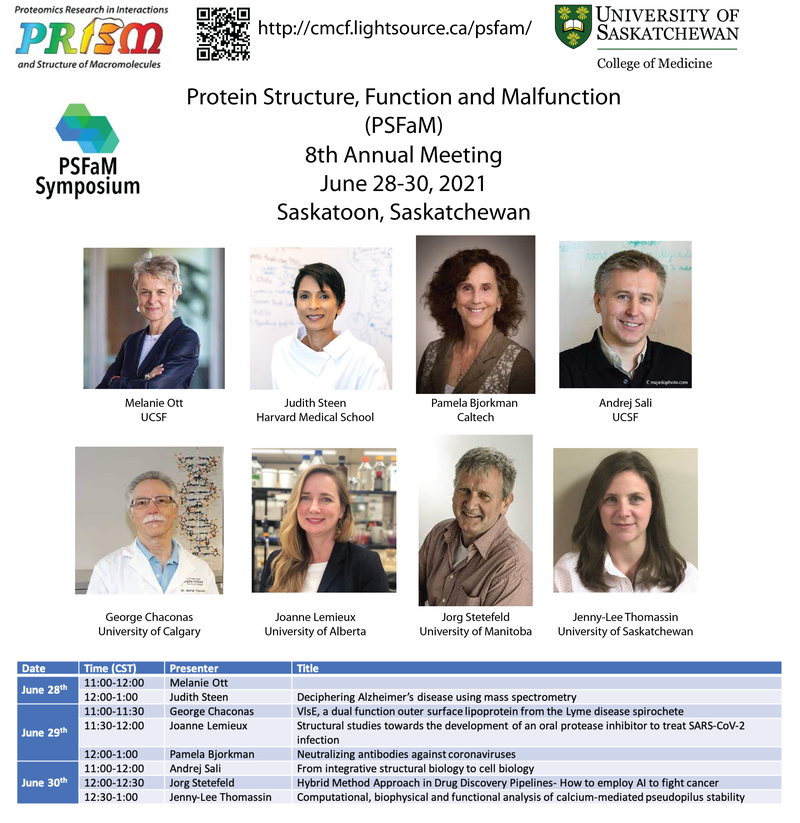 Our Sponsors