MxLIVE (Mx Laboratory Information Virtual Environment) is the CMCF sample and data management system you can access from home via a secure web connection. 
An organizational tool for CMCF, MxLIVE offers users easy management of shipments for visits to the CLS, remote monitoring of data collection sessions at the beamlines with immediate viewing of data and analysis reports, as well as convenient options for on demand data transfer.
Some of the Features:
Login using your CMCF beamline account
Manage groups of samples and shipments
Prioritize samples or groups of samples
Check shipment status
Inspect and download data and results from anywhere, whether doing Mail-In, remote, or on-site collection
Full integration with MxDC - view results immediately from anywhere
Download your data however you want it - single frames, full datasets, processing files, or your entire session directory
View statistics from each session on the beamline, or from all of your historic visits.
Preparing for Upcoming Beamtime
Before your beamtime, login to MxLIVE and create a shipment representing the samples you will be sending to the CLS. Some tips for preparing your MxLIVE shipment:
give your shipment a unique name so you can reference it again later
enter the labels on the containers (Uni-Pucks or Cassettes) that you will be sending to the beamline
add samples once your shipment is created; only fill containers with samples that are physically present,
when your samples are shipped, click "Send" in MxLIVE so beamline staff know to expect your shipment.
You can update your shipment's tracking number even after you have sent it, using the "Recall" button on your sent shipment's page. If you've made a mistake and your shipment hasn't been received at the beamline yet, you can unsend the shipment, make your changes, and send it again.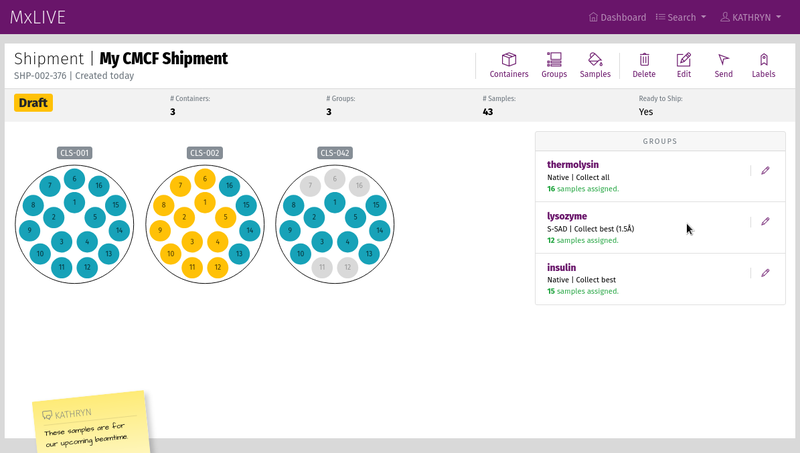 A full description of MxLIVE features and detailed documentation can be found here.